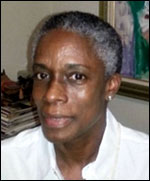 Dr. Barbara Grandison
The Caribbean Association of Otolaryngologists (CAO) is pleased to welcome you at our 28th Annual and our first virtual conference on July 10 and 11, 2021. We are a group of Ear Nose and Throat specialists that meet once each year in a different Caribbean island to share and discuss research papers of high scientific valve and conduct courses in new and exciting Otolaryngology techniques and technologies.
This year due to the ongoing restrictions to travel and gathering due to COVID 19 we will be having a completely virtual meeting with invited special guest speakers from around the world. Our guest speakers are all world recognized experts in various fields in Otolaryngology Head and Neck Surgery.
The theme for this year's conference will be Legends of Otolaryngology. We will be honoring our very own Dr Halda Shaw (Jamaica), Professor Emeritus Eugene Myers (USA), and Professor Harold Phillsbury (USA). Each of these stalwarts has contributed immensely to the lives and professional careers of Otolaryngologists around the world and specifically to the Otolaryngology community of the Caribbean.
We are excited to welcome you from all over the world to participate in this stimulating and timely online scientific meeting.
Dr. Barbara Grandison
President