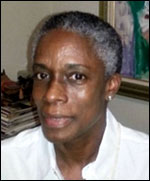 Dr. Barbara Grandison
Dear Member/ Visitor,
Welcome to our website.
The rapid developments in medicine, and no less so in Otolaryngology have made it essential that we constantly keep updated, keep our minds open and our skills honed.
Otolaryngology encompasses many subspecialties and necessitates collaboration with many other specialties. It is essential to keep abreast of new developments, as well as continuously sharpen fundamental skills already acquired.
This year we invite you to join us in our Annual Academic Conference – in person, as we discuss Cutting Edge Concepts in Otolaryngology. This will be held May 7 – 10, 2023 in beautiful Antigua. They boast 365 beaches, one for every day of the year.
We have a program of highly experienced speakers and we look forward to all that they will share.
Our goals are always to keep abreast so we can offer the highest quality of service to our patients as well as facilitate your professional development. We look forward to achieving these goals.
See you in Antigua.
Barbara Grandison
President