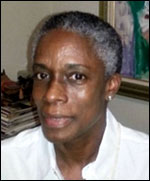 Dr. Barbara Grandison
Otolaryngologists in the Caribbean come together each year to stage the Annual Academic Conference of our association, the Caribbean Association of Otolaryngologists (CAO).
This year we welcome you to join our 29th Annual meeting, to be held May 21 &22. This will be a virtual meeting.
This year's theme will be "The Multidisciplinary Approach in Otolaryngology". We will share discussions with colleagues from many other disciplines, with whom we frequently work, and who add so much to the care and services that we deliver to our patients. Recent advances in medicine have made it possible to offer more accurate and personalized care to patients, and to enhance outcomes with the participation of skilled specialists from other disciplines.
We anxiously await presentations from practitioners in Sleep Medicine, Cardiothoracic surgery, Endocrine medicine and Surgery, Neurosurgery, Pathology, Oncology, Skull base surgery, Anesthesia, Radiology, Faciomaxillary surgery, Prosthetic rehabilitation, Palliative Care and of course Otolaryngology. Specialists of world renown from the Caribbean and the rest of the world will be participating.
Our residents, many of whom participate each year, will also share their research. Their participation is always encouraged as they represent the future of Otolaryngology in the Caribbean.
We look forward to this timely, relevant, and exciting meeting and welcome you to join us.
We hope you take away much from this meeting to enhance your practice.
Enjoy our meeting!
Barbara Grandison
President